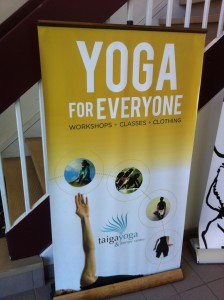 My sister and her husband invited me up to Yellowknife to see their newborn baby.  And what did I do?  I snuck away to go to a yoga class!
Not that I'm running away from anything.  I'm just curious about what kind of yoga is being offered in Yellowknife.  And besides, as an Auntie, there's only so much I can do.  With my Mom here too, the little guy is in good hands.
Taiga Yoga caught my eye because it seemed to teach the alignment-based style that I prefer.  Their website showed photos from a Desiree Rumbaugh workshop in 2010.  I loved their motto of "Yoga for Everyone".  Cool.
I made the 20 minute trek from my sister's house in Old Town to the studio.  The walk on the permafrost-heaved roads to downtown took me past some old-time shacks, tourist shops like Gallery of the Midnight Sun, Just Furs, well known quirky restaurants such as Bullocks Bistro and the Wildcat Cafe, the local outfitter called Weaver and Devore (if it's not in the main store, it's hidden in the warehouse buildings next door) and the eclectic houses on Willow Flats.
The studio was located in the basement but you'd never know once you walked in through the front door.  It was an oasis in the Far North, with beautiful rich reds, calming blues and yellows plus a fireplace with help-yourself tea and comfy seating.  I signed the registration form and settled in onto the practice room cork floor, with my sister's borrowed Manduka mat.
Given that this was a lunchtime class, it seemed to attract quite a few people who worked in the area.  Almost twenty yogis and yoginis.  And although I saw lots of First Nations Dene people on my walk, unfortunately I don't think I saw anyone in the class.
Linda led a moderately paced practice focusing on the hips and back.  I really appreciated her alignment instructions and options for modification.  I took away a few ideas for future classes (watch out Monday night regulars!).  The Dragon Lunge called for resting my forehead on a block, her Child's pose had us gently circling the hips, and I loved Waterfall which involved the sacrum supported on a block with legs extended upward.
I enjoyed sharing this space with new people.  I felt renewed after a 40 minute practice and ready to be back with my little nephew.  Like a yoga inversion, it's always good to step outside of one's regular world and see things from a different perspective.